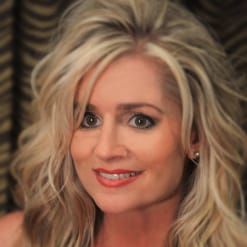 Owner, Master Hair Stylist & Color Specialist
Kellie Hyer, (co)owner of Destin Hair Studio knew she wanted to be a stylist at the age of ten and never considered another career. Kellie has been working in the Cosmetology industry for over twenty years. She managed and owned many Salons in Texas before relocating to Destin Florida. Her experience began when she was eighteen when she earned her Cosmetology License. She owned her first salon, Belle Cheveux before her twenty-first birthday.
She decided that Cleburne Texas was too small for her huge aspirations, so she sold her Salon and moved to Dallas, Texas, It was there she started at Michael Raymond Salon and Aveda Salon. After Aveda, she opened some of the most elite salons in Dallas and Houston. Those Salons included Salon Defide, another Aveda Concept Salon. She then opened Salon Visage and Salon De Joie in Houston.
After spending twenty years as a Salon Owner, Manager, Master Hair Stylist, and Color Specialist in Texas she decided it was time to live and work in Paradise. After settling in Destin Florida, she managed at Bella Salon for a year and decided it was time for her to open a new Salon, Destin Hair Studio.
Her Passion, Your Beauty
Kellie has more passion for the art of making people beautiful than one could imagine. She takes more than pride in her work, she takes it to heart. Kellie offers on-site bridal services as well as model shoots. Brides have always been her passion. She also offers coloring services among many other coloring and hair cutting services. If you would like to schedule an appointment with Kellie, please contact Destin Hair Studio.