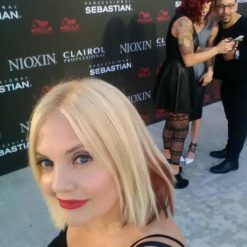 Master Hairstylist & Makeup Artist
My name is Joy and I have been doing hair for 26 years. I am an expert in color, updos, makeup, extensions, and cutting, I basically do it all. My passion for hair and makeup started when I was in high school. I spent my free hours coaching girls on makeup application and hair. I love helping people and making them feel great. I went to beauty school in South Dakota, our Beauty school was rated in the top 10 schools in the USA to attend by Modern Salon Magazine. As soon as I started I knew that it was the perfect decision for me!
Small Town Living To Big City Life
After working for 5 years in a very small town in South Dakota, I ventured off to the big city of Denver Colorado to work in one of the finest salons in Colorado. Michael of the Carlysle gave me the further training and education to become team leader of our design team because in under a year I was the top stylist in the salon.
I had a great run of it in Colorado but soon I wasn't challenged enough so, after 10 years in Denver, I decided to once again follow my heart and move to Miami, where I knew no one. I wanted to work on celebrities and landed a Job at Rik Rak Salon where we worked on several TV shows. I prepped all of the Real Housewives of Miami for their red carpet events as well as working on several Latin movie stars. I once again felt the need to challenge myself and became a color brand educator for Wella Koleston as well as Sebastian and Nioxin. I traveled to many places getting lots of ongoing education and teaching salons color classes.
From The Red Carpet To Paradise
After 10 years of living in Miami I grew tired of the traffic and fast pace and started looking for a smaller place in a more intimate setting and I had visited Destin many times and loved it there. Many people ask me what am I passionate about in the business and my answer is always the people! I don't care if I am cutting, coloring, prepping brides, I really love people. There is a human being under that head of hair and I have been so lucky to be in their presence. I just love people and the beauty I see is not on their head. It's in the whole essence of who they are and that is where I get the inspiration.